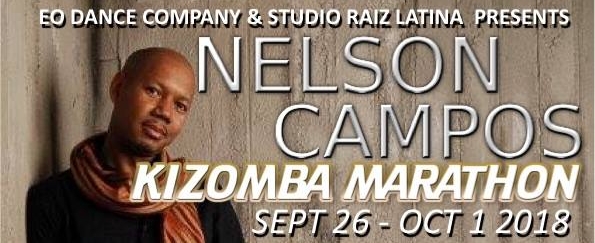 schedule
---
9/26 (Wed)
KIZOMBA TARRAXADA WS & Welcome party @ CHARLIE ROSE 赤坂
Akasaka 3-14-9 5F
A rare chance to take a kizomba tarraxada workshop, a very popular dance in Africa & Europe & social party to dance with Nelson Campos!
9/27 (Thu)
SEMBA WS & Mini Practice @ STUDIO MISSION
20:00 - 21:00 Semba Workshop
21:00 - 21:25 Mini practice
A fun semba workshop with fast footwork and tricks by Nelson Campos and a mini practice afterwards for a chance to practice with Nelson himself!
9/28 (Fri)
STUDIO WORKSHOP @ STUDIO MISSION
20:00 -21:00 Tarraxinha Workshop
21:00 -22:00 Kizomba Ladies Styling
Tarraxinha pair work for men and ladies where you can learn the movements and correct lead for those movements. Ladies! A chance to brush up on your sexy kizomba ladies styling to give more flavour to your dance.
9/29 (Sat)
BOOTCAMP & SOCIAL @ STUDIO LEON(2F)
19:15- 21:15 Social Pair Bootcamp
21:15- 23:30 Social party
2 hour social pair bootcamp where it's not just about learning a choreography but you can learn the proper technique for leaders and followers, and other techniques
useful for socials. Afterwards, you have plenty of time to practice during the socials, as well as dance with Nelson himself!
9/30 (Sun)
TRADITIONAL KIZOMBA WS STUDIO WORKSHOP @ STUDIO MISSION
14:00 Traditional Kizomba Level 1
15:10 Traditional Kizomba Level 2 &3
16:20 Traditional Kizomba Level 4 &5
A day of traditional kizomba studio workshop! Divided into levels 1, 2&3, and 4&5, so you can learn systematically different steps and techniques.
Level 1: For beginners starting out.
Level 2&3: Those who already know the basics like ladies & men's salida and want to learn more moves.
Level 4&5: For advanced dancers learning more complex combinations.
10/1 (Mon)
KIZOMBA FUSION WORKSHOP & FAREWELL PARTY @ TBC
The last day and dance to dance socials with Nelson Campos, combined with an exciting kizomba fusion workshop, which is a combination of traditional kizomba & other styles, very popular around the world. 
Online Ticket
---
 

SPECIAL PASS

STUDIO LESSON FULL PASS (先着10名) ¥15500  →  ¥13,000

CLUB LESSON & PARTY +BOOTCAMP SOCIAL  FULL PASS (先着10名)   ¥14500  →  ¥12,000

KIZOMBA MARATHON 6DAYS  FULL PASS (先着5名)   ¥30,00  →  ¥24,000

WORKSHOP

1WS ¥2,500 (Adv.)  ¥3,000(Door)

2WS ¥4,500 (Adv.)  ¥6,000(Door)

3WS ¥6,500 (Adv.)  ¥9,000(Door)

 BOOTCAMP

BOOTCAMP + PARTY

¥5,500 (Adv.)  ¥6,500 (Door)

BOOTCAMP ONLY 

¥4,500(Adv.) ¥5,500(Door)

PARTY ONLY 

¥2,000 (Door)
---